On the 23rd of August we held our summer showcase, celebrating the work done by our members over our eight week summer workshop session. Here's a look at what we got up to over the summer –
PRODUCTIONS

Sadie's tour of Ayr can also be downloaded here to save your mobile data.
Sadie Woods – Tour of Ayr
Sadie – During on of our workshops we had discussed the concept of guided audio tours and I became a little obsessed with the idea. I decided I wanted to have a go at making one and figured that it would be a good project for our summer showcase. The hardest part of this project was the timing and I found myself walking the same route around Ayr nearly everyday listening to various stages of guide tracks to find the right pace. I am now working on a similar (but more interactive) project for my final year submission at university.
Lauren Fraser – Sketchy
Lauren – I have been coordinating 'Sketchy' for a few years now. It's a sketch show made from short pieces everyone in the group made for a workshop I held on writing comedy. It's so interesting getting everyone's pieces in and listening to the different ways people write. Comedy is often subjective and really is an art form. Creating this collaborative project has been a fantastic way to let people test the water for their jokes and timings. More good things to come.
Kathleen Kidd – What Is a Scream Track?
Kathleen – When I was recording Into the Murk, I realised that it was strange to have a folder of actors just screaming. I decided to make a piece about why I do this and how it can be useful for not only you as a producer, but also for your actors voices. I enjoyed making this piece as I find the scream tracks really funny to listen to on their own, especially the one at the beginning. I made this particular piece for the showcase because I wanted to deliver a skills based piece, rather than a fictional audio drama which is what I'm used to. It was challenging as I rarely write factual pieces, and the narrative flows differently, however I feel that I achieved what I wanted to.
Clair Love – Show Reel
Clair – Before coming to the Audio Cooperative I didn't have much knowledge of audio production. I feel that through the weekly workshops and feedback I have been able to learn so much in a short space of time. This is my showcase piece made from little projects I created week to week which I have voiced over to talk you through the process. I now have a sound understanding of recording and editing audio and it's been so much fun too!
Jetsnail can be downloaded for windows here.
Robert Ruthven – Jetsnail! (& his friend Rocketsnail!)
Robert – I wanted to try something a bit different for the showcase so I made a two player cooperative game about snails. I made Jetsnail over two weeks – it was my first ever unity project and the first time I had attempted any c# since 2007. I got away with calling it an audio project because I produced the music and sound effects – I did most of it on a Casio VL1 VST because I think it sounds really funny. The biggest lesson was when I discovered that the game is actually incredibly difficult – everyone was extremely sick of the 2 minutes of music I wrote after listening to it for half an hour. Oh well!!
News
Over the eight week run of workshops our creative energies were not limited to audio production. Kathleen and Clair built us a mobile foley pit complete with indoor, outdoor and neutral surfaces, shown in action below –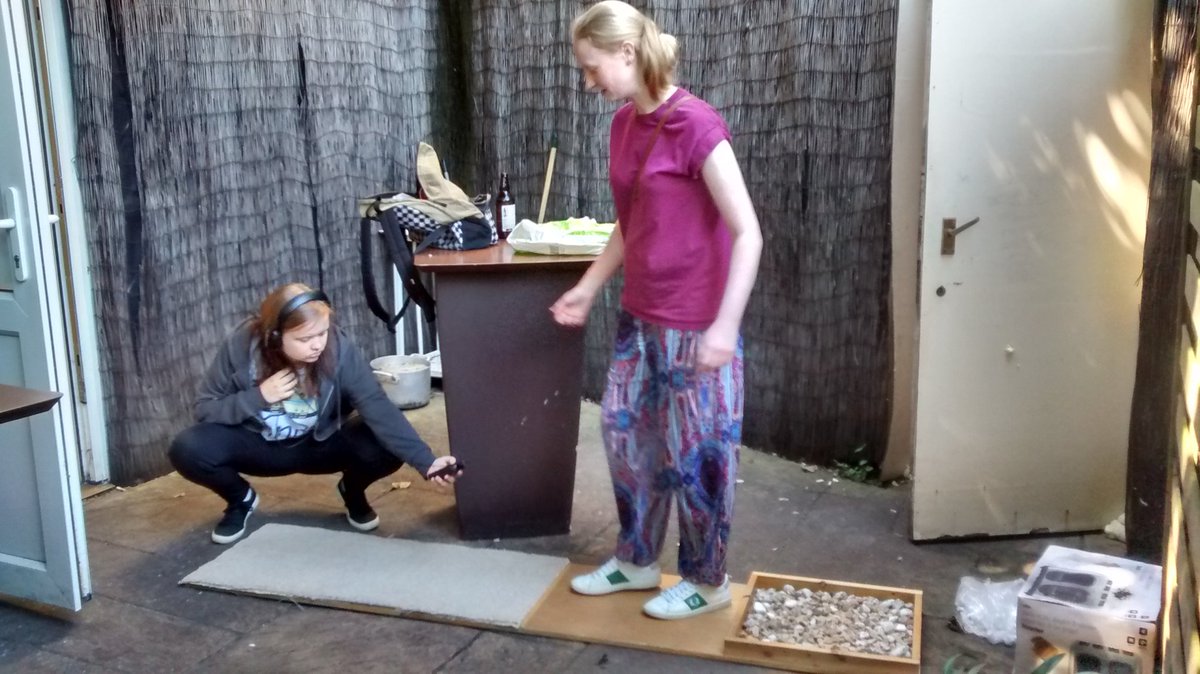 Clair also sprayed us this beautifully stencilled and extremely sturdy wooden sign so we can lay claim to our wee corner of our new home in Cameron's bar:

One of our series – Kathleen Kidd's A Night of Horror – is going on a small tour of live table read performances. We'll be performing in Cameron's Bar in Ayr on the 19th of October and in the Banshee Labyrinth in Edinburgh on the 27th and 28th of October as part of the Edinburgh Horror Festival. Both performances will be free entry, with a collection at the end.
A number of our members have been performing at Monday Monologues in our new home at Cameron's – a kind of open mic for spoken word performance. If you would like to see a preview of upcoming cooperative work you can generally expect to find some on the first Monday of every month in Cameron's. Cameron's have been extremely supportive of us in our time here and we would strongly recommend a visit.
We're extremely happy with the results of our first summer session, both in the content produced by our members and the lessons learned from creating the curriculum. Over the autumn period the cooperative will be teaching an introductory audio production course at a primary school in Ayr – we have already begun these workshops and you can expect to hear more about them in the coming weeks.
If you would like to get involved with the cooperative, send us a message on facebook or twitter to find out more about our upcoming events! We will begin our winter workshop series soon, so now is a great time to join us!